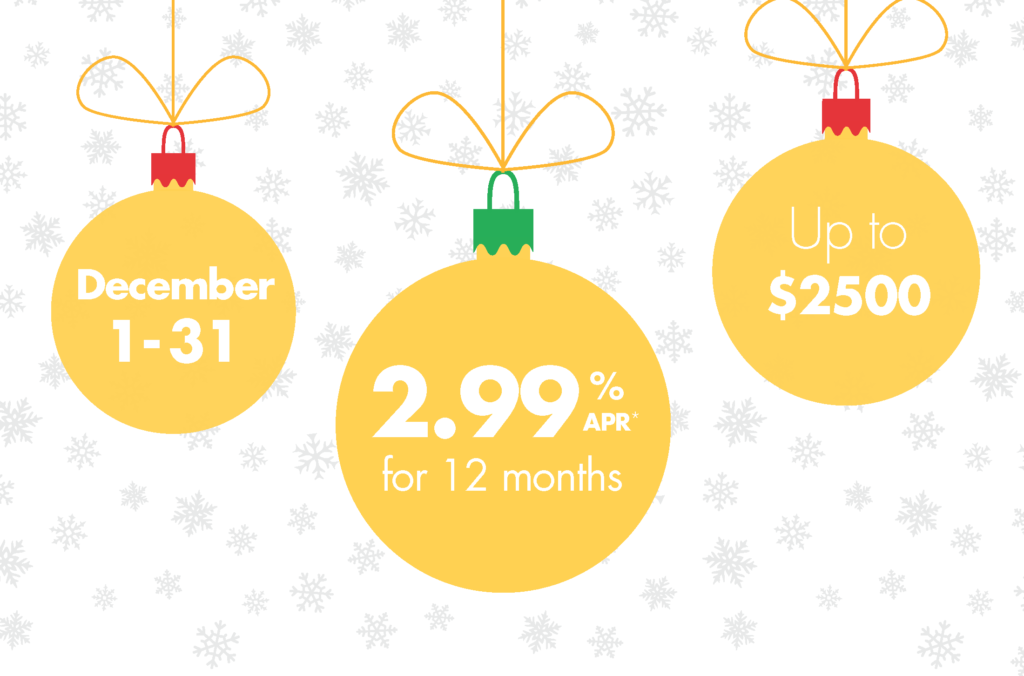 BRIGHTEN YOUR HOLIDAY SEASON
Take advantage of our special loan promotion between December 1 – 31, 2021. HOCU Members can apply for personal loan amounts up to $2500 to help make their holidays a little more special. Use it to step up your holiday shopping game, pay off those post-holiday bills, or plan that special trip with family or friends.
HOW TO APPLY
Click here to apply for Holiday Loan today. It's easy to complete online.
APPLY IN-BRANCH
Visit one of our branches and ask our tellers to complete an application for Holiday Loan Special.
Please contact us at 808-777-5626 if you have any questions.
*APR – Annual Percentage Rate. Promotional 2.99% rate applies to 12 month (or less) Personal Loan and is the lowest rate available. $2,500 maximum loan amount. Offer begins 12/1/21 and ends 12/31/21. Loan application must be received by 12/31/21. HOCU membership required. Subject to credit approval. One outstanding Personal Loan with the 2.99% promotional rate per member. Additional requirements to qualify for promotional rate if credit score is under 720. Minimum 660 credit score to qualify for promotional rate. Additional Payment Example: Loan amount of $2,500 at 2.99% for 12 months would have a monthly principal and interest payment of $212. Rates, programs, terms, and conditions are subject to change at any time without notice. Certain restrictions apply.