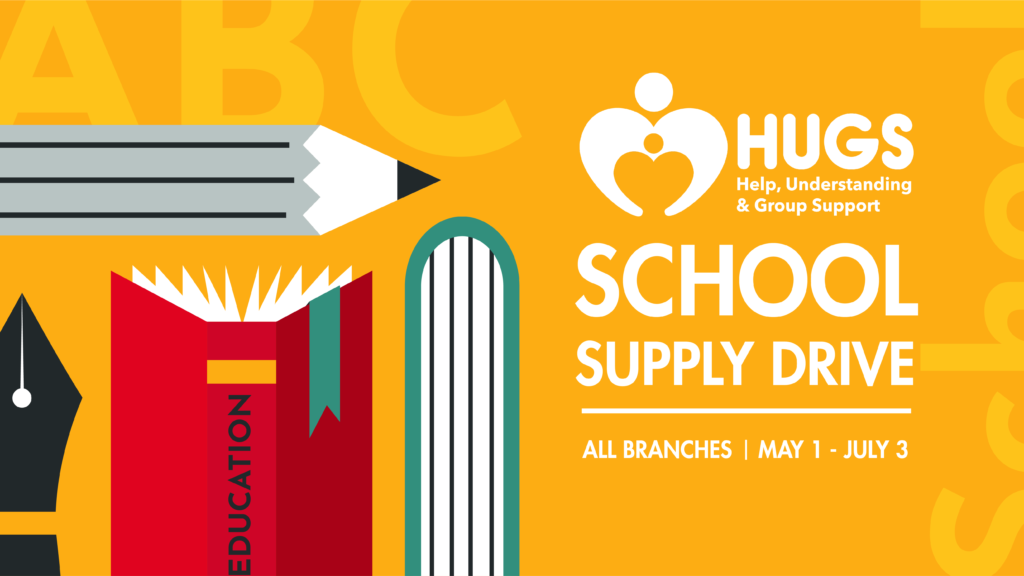 Now Accepting Donations for School Supply Drive
Join us in first-ever school supply drive for HUGS Hawaii, a local organization that supports over 400 seriously ill children and their families. We're collecting school supplies now until Monday, July 3 at all HOCU branch locations for children who are currently enrolled in school.

From pencils and paper to backpacks and scissors, every item counts. With your help, we can make a real impact in our community and give students the tools needed to reach their full potential and succeed this next school year.
School Supply Drive
FAQs
1. What is HUGS?
HUGS (Help, Understanding and Group Support) is a local organization that helps children with long-term illnesses and their families. They have helped strengthen thousands of Hawaii's families and improve their quality of life as they face the emotional and financial challenges of caring for a seriously ill child. For more info, click here.
2. When is the last day for school supply donations?
The final deadline for school supply donations is Monday, July 3.
3. What school supplies can we donate?
Please donate the following school supplies:
Children's Backpacks
12″ Rulers
24-Count Box of Crayons
Assorted Markers
Red/Black Ballpoint Pens
Color Pencils
Erasers
Glue Sticks
Highlighters
Kleenex Tissues
No. 2 Pencils
Paper Towel Rolls
Pocket Portfolio Folders
Ruled Index Cards 100-Count
Safety Scissors
Bookcovers
Composition Notebooks
Filler Paper 150-Count
Spiral Notebooks
4. Where can I donate school supplies?
All HOCU Branches are accepting school supplies.
Have Questions? Call 808-777-5646 or email us.