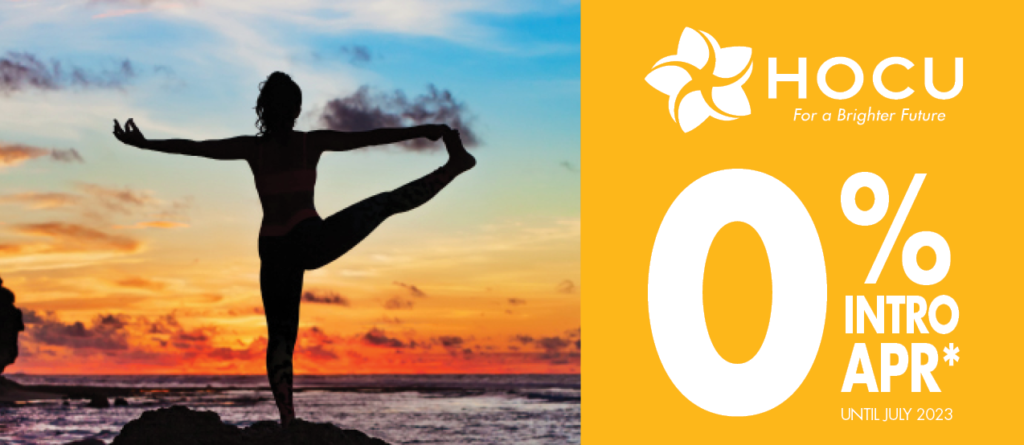 ACHIEVE A BETTER BALANCE
Are you currently paying multiple balances on high rate credit cards? Why not lower your interest rate and pay off debt faster with a balance transfer to a HOCU Visa Credit Card. Consolidate your debt into one easy payment and enjoy our 0% APR* introductory rate until July 2023 with a 3% balance transfer fee. After introductory period, rate reverts to 6.99% to 14.75% APR*.

QUALIFY UP TO $25,000

NO ANNUAL FEE

TRANSFER MULTIPLE BALANCES

EASY TO COMPLETE APPLICATION
DON'T HAVE A HOCU VISA CREDIT CARD?
Apply online or in-branch today. You can do a balance transfer when you receive your new card.
STEPS TO APPLY FOR BALANCE TRANSFER
1. Apply for a HOCU Visa Credit Card online or in-branch. Approval takes 24-48 hours.
2. Complete Balance Transfer Form (Click here to download).
3. Return completed Balance Transfer Form with attached statement(s) to your closest branch or mail it to the following address:

     Honolulu Federal Credit Union
     PO Box 235862
     Honolulu, HI 96823
QUESTIONS?
Don't hesitate to call 808-777-5646 or email info@myhocu.com. You can also get more info on the online application and disclosure here.
*APR – Annual Percentage Rate. Offer valid April 1, 2022 thru June 30, 2022. Requests for balance transfers must be received by June 30, 2022. Balance transfers may not be used on existing HOCU loans. 0% Introductory APR for Balance Transfers until the July 2023 billing cycle, any unpaid balance will revert to the current APR for Balance Transfers, between 6.99%-14.75% APR, based upon your creditworthiness. New and current cardholders eligible. New cardholders are eligible for the Balance Transfer Promotion after they receive their new Visa card. HOCU membership required. Credit card approval based on creditworthiness and other qualifications. Promotion, rates, terms and conditions are subject to change without notice.