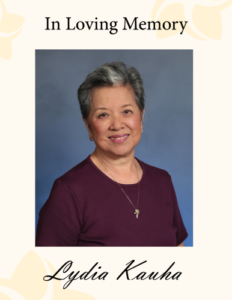 Honolulu Federal Credit Union (HOCU) is mourning the recent passing of Lydia Kauha, long-time member of HOCU's Board of Directors. She was a fierce advocate for the credit union movement and a HOCU member for over 42 years.
Lydia began her volunteer journey with HOCU's Supervisory Committee. In 1987, she was elected to the Board of Directors and served various roles including Board Chairman (1990-2010), Vice Chairman (2011-2018), and Secretary/Treasurer of the Board until her passing.
Lydia also made significant strides as the Chairman of the Scholarship Committee and HOCU's Rising Star Scholarship Program. Her dedication and leadership helped dozens of local students achieve a brighter future through higher education.
"Lydia was so giving of her time as a volunteer, always with the credit union and its members in mind. She was the consummate professional as a Board member, yet she always found time to do the simplest of gestures, such as baking her delicious chocolate chip cookies and bringing them for the credit union staff to enjoy," said President/CEO Mark Munemitsu.
Lydia was a graduate of the University of Hawaii and retired from the Internal Revenue Service as a Revenue Officer Group Manager in 2004.
HOCU extends our sincere condolences to her family. Lydia and her work will be fondly remembered for years to come.
WORKING TOGETHER

FOR A BRIGHTER FUTURE

.